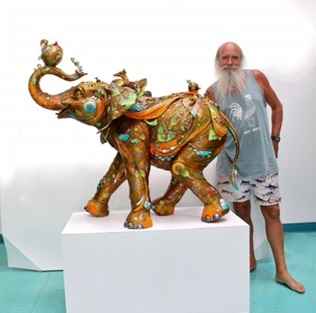 Nano Lopez was born in Bogota, Colombia on October 31, 1955. Nano was recognized early in his life for his artistic talent when he was awarded first place in a municipal school drawing contest at the age of 5. Around the age of 15, Nano's love of art grew and he began using wet clay he found at construction sites to practice his skills. By high school, he was making serious copies of the masters including Michelangelo's sculptures and paintings. His passion for art led Lopez to travel all over the world, studying in prestigious schools and exhibiting his sculptures for international art collectors. Nano focused on model-making and reducing and enlarging maquettes to monumental sizes for many years, but has more recently shifted his work towards the creation of his "Nanimals". His "Nanimals" sculptures engage viewers of all ages and reflect a sense of playfulness, intense creativity, and wonder.
For Nano, the entire sculpting process begins with his initial conceptual sketches.
He then creates a small working model in clay. Following that, he will then sculpt the piece in its actual size.
In his artistic process, Nano integrates organic textures and human-made objects into his bronzes to create pieces of art that reflect the same depth and richness he sees in the world around him.
The sculptures unique elements become part ofthe final piece in several ways. They may be embedded, applied to the surface, or even indented in the actual clay.