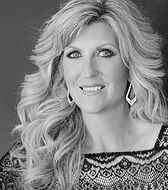 Tammy has always felt a strong bond with animals and aimed to recreate that feeling in art. Drawing on a variety of life experiences and sculpting workshops, Tammy developed her own signature style utilizing different techniques and mediums to create sculpture representing our interconnectedness with animals and capturing not only their images, but also their spirits.
Tammy enjoys exploring the strengths of each medium she sculpts in – the freedom and spontaneity of raku fired clay, the strength and precision of bronze, the luminosity and intrigue of crystal – and complementing their weaknesses with the strengths of the others.
Tammy's work is found in private, corporate and museum collections in the US, Europe and Japan.
AWARD AND MUSEUM COLLECTION HISTORY
2015 Red River Valley Museum International Art Show, Vernon, Tx Best of Show, "Going for the Hack Rein"
2013 American Women Artist's Online Competition, Second Place Sculpture
2012 American Women Artist's 15th Annual Show, Award of Merit
2011 Honorable Mention, Horses in Art magazine cover competition, "Spring Foal Crop" awarded; Fall 2011 issue
2011 Rockport Center for the Arts, Rockport, TX 41st Annual 2011 Women Artists of the West national juried exhibition; Award of Merit "Bull Rush"
2011 8th place in Ex Arte Equinus 4 International Art Show, Abundance, 9th place in Ex Arte Equinus 4 International Art Show, "The Dun"
2010 Office of the Mayor, Longmont, CO, Mayor's Community Positive Impact Award, Abundance donated to Chino, Japan, Longmont's Sister City
2010 AKC Museum of the Dog, Springfield, MO "Keeping the Peace" donated to Police K-9 collection in AKC Museum of the Dog
2010 Olaf Wieghorst Museum, El Cajon, CA, Three-Dimensional Jury Choice Award, Market Forces ,
40th Annual Women Artists of the West National Juried Show
2009 Best in Show, Little Diva; 1st Place Sculpture and 1st Place Toy Dog Category, Coliseum, Wichita, KS,
Awarded Juror Position for 24th Annual Art Show at the Dog Show in 2010 23rd Annual Juried Art Show at the Dog Show
2009 Saks Gallery, Denver, CO, First Place Three-Dimensional Art awarded by Southwest Art Magazine, Little Diva
2009 First Place Juror's Choice, Market Forces, Women Artists of the West Juried Show
2002 Celtic Art Show, Denver, CO, First Place Best in Show All Mediums, Shapeshifter, Celtic Art Show
2002 Geese Galore!, Longmont, CO, First Place in "Geese Galore" project, Barley Goddess
2002 People's Choice, Barley Goddess, Geese Galore! Project Exhibition
2001 Museum of the Mountain Man, Pinedale, WY; Vanishing Breed added to permanent collection
1999 Boulder Creek Festival, Boulder, CO Best Sculpture Booth, Boulder Creek Festival Fine Art Show
1999 Boulder County Fair, Longmont CO, First Place Sculpture, Horse Goddess, People's Choice Award, Horse Goddess
1997 Denver Expo, Denver CO First Place Sculpture, Stoneware Horse Vessel, Rocky Mountain Horse Expo
1991 Twin Peaks Mall, Longmont CO First Place Sculpture, "Horse Trio", Longmont Artist Guild Spring Show